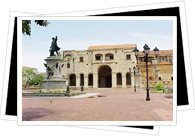 Colonial City of Santo Domingo,
Dominican Republic
Colonial Santo Domingo covers 3 square kilometres and is the model for most towns in the Americas, set out on a grid pattern.
Founded in 1496, colonial Santo Domingo is home to America's first cathedral, hospital and university.
Talking a walk through the cobblestoned streets of colonial Santo Domingo is like heading back in time as you explore the museums, plazas, parks, Dominican cuisine and architecture of the Dominican Republic's capital city.
Colonial Santo Domingo is listed as a UNESCO world heritage site.