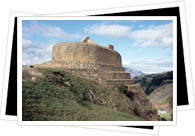 Ingapirca,
Ecuador
Ingapirca, near Cuenca, is the site of the largest Incan ruins in the country which was both a fortress and an Incan religious centre.
The Temple of the Sun is the Inca's only known example of a circular temple.
The site of Ingapirca was originally home to the Kanari people, before the Inca.
The early Europeans ransacked the site and used the rock to build elsewhere so it is not nearly so spectacular as other Inca ruins.