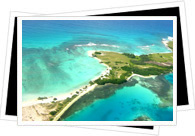 The clear waters and tropical beaches of Central America and the Caribbean in particular are famous worldwide as sandy paradises with crystal clear waters and some of the beaches found in South America are considered the best in the world.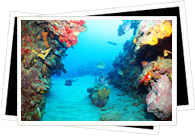 Fourteen percent of the world's coral reefs can be found around in the Caribbean as well as six of the seven turtle species.
The clear waters of the Caribbean Sea are not as salty as the Atlantic and the deepest point is located between Jamaica and Cuba in the Cayman Trench, 1686m below sea level.
Life's A Beach.... and More
Yes, it is very easy to lie there basking in the sunshine, listening to the lap of the clear waters on the sand, but Latin America offers so much more.
Surfing, kayaking, white water rafting, kitesurfing, snorkelling, ice diving, swimming with whales, diving with sharks, yachting and fishing in deep blue, turquoise and clear waters are just some of the different watersports which the waterways and beaches of Latin America have available to try out.