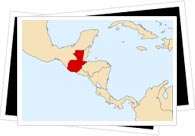 The Republic of Guatemala is one of the ten poorest countries in Latin America, located within the Central America region.
Guatemala covers an area of 108,890 square kilometres, which is just a little larger than England and due to its location, lying between the Pacific Ocean and Caribbean Sea, it is a target for hurricanes during the season.
Country of Eternal Spring
Guatemala is often called the 'country of eternal spring' as it has just two seasons of warm, tropical weather: rainy season and dry season. The dry season is from December until May, with distinctly cooler nights between December and February and an average daytime temperature of 20 degrees Celsius. The rainy season begins in May and runs through until the middle of November. In Guatemala City, average annual rainfall is 1.3m and in the north the rainfall can be almost double that figure.
From 2000BC to 250AD Guatemala prospered. Agricultural methods improved which led to a population increase. Maya villages were founded, temples were built, trade routes were set up across the country and they developed skills in astronomy, mathematics, pottery and writing. The Maya are recognized as having the only developed written language in the Americas up until the arrival of the Spanish. Between the 8th and 10th centuries the Maya waned. Towns became villages and many were abandoned.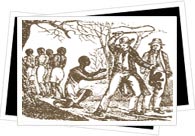 The Spanish invaders put the indigenous people to work in slave conditions tending the land. Through the intervention of the Catholic church, by order of King Carlos V of Spain, brutal violence against the natives was stopped although battles between the Spanish and tribes continued as Spain took over the country.
In 1773, the capital city of Antigua was destroyed by an earthquake, so a new capital was established in Guatemala City, 25km to the east. Guatemala became independent of Spain in 1821 and after briefly joining Mexico, joined the United Provinces of Central America, which in turn had broken up by 1840 due to civil war.
Cultural & Natural Heritage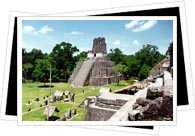 The famous Tikal National Park is located in the Petén province in the north of Guatemala and was the first combined property (cultural and natural) to enter UNESCO's world heritage site list in 1979. The lush vegetation conceals a major Mayan ceremonial centre, comprising temples and palaces with remains of dwellings scattered around which were inhabited from the 6th century BC up until the 10th century AD. Tikal is the largest excavated site on the American continent.
Travelling in Guatemala is not difficult. The country has a motorway system linking up sights in addition to a bus service and the instantly recognizable 'chicken buses'.
The quetzal currency is named after Guatemala's national bird. This is of great significance to Guatemala as in ancient Mayan times, the tail feathers of the Quetzal bird were used as currency.
Spanish in Antigua
- Language School in Guatemala. Study spanish at Guatemala Spanish School. Experience Guatemala and study and learn Spanish