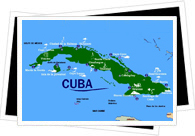 The Republic of Cuba (Cuba) is the largest island in the Caribbean, with 11.5 million inhabitants living over a space of 110,860 square metres crocodile in shape.
Along with the main island and 4 archipelagos, Cuba is made up of over 4000 islets and keys.
It is the westernmost of the Caribbean islands, just 145km (90 miles) south of Florida, which famously exports rum, cigars, mojitos and its own brand of Latin rhythms for salsa dancing.
History of Cuba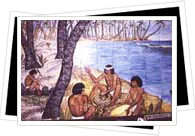 Before the Spanish invaded, the island was inhabited by the Gauanajatabey and the Ciboney, relatives of the Taíno (Arawak) Indians, tobacco farmers who lived relatively peaceful lives in comparison to Indian tribes on other islands. Nowadays the Republic of Cuba has an eclectic mix of people deriving from the Indians, the Spanish settlers and the African slaves, comprising 65% of white origin (mostly of Spanish descent), 25% black and 10% of mixed race origin.
Biodiversity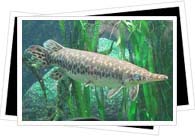 The Cuban archipelago is home to 4% of the world's land species. It also boasts some 6,700 plants, 14,000 invertebrates and 650 vertebrates, of which 350 are bird species. Both the world's smallest frog (12mm) and the smallest bird (63mm) live there.
Other rare animals which can be found in the Republic of Cuba are; the eyeless Lucifuga fish, the prehistoric Manjuarí fish, the Cuban Solenodon - an insectivore on the verge of extinction, the Cuban Crocodile, the Cuban Robber Frog and Poey's Black Swallowtail Butterfly, to name just a few.
It also has 3000 plants which are unique to its shores. Cuba's coral reef is considered second to that of Australia and has the second longest known reef in the world at 36km, just off Santa Lucía beach.
Cuban Culture
The capital of the Republic of Cuba is Havana, which in 1982 had its old city recognized by UNESCO as a world heritage site. Founded in 1519 by the Spanish, nowadays it is a lively city, the second largest in the Caribbean, which gives the feeling that the modern world hasn't arrived when you see so many American cars from the 1950's and 1960's cruising the streets. Havana regularly hosts different festivals from fishing and sport to music and theatre throughout the year.
Cuba benefits a tropical climate and warm seas of 25 degrees Celsius. Winter is a short season with temperatures on average in the mid 20's which increase to the low 30's Celsius in the summer.