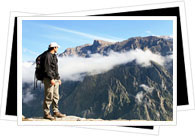 Ecotourism is a concept which has been increasing in popularity over the last 50 years.
Rural tourism, ecotourism, travelling off the beaten path and sustainable tourism all have common charisteristics, but are all very slightly different in their environmental influence.
Rural tourism and travelling off the beaten path are the same, travelling to rural areas where tourism is generally uncommon or limited to few times in a year.
Sustainable tourism and ecotourism are also both similar, but differ in that ecotourism is when a person offers something to the community or nature, rather than it sustaining itself in its original state following the end of the tourist activity or the departure of the tourists.
Biodiverse & Human Concerns
Latin America is one of the first destinations that comes to mind when considering where to carry out any ecotourism activities due to the incredible wealth of biodiversity.
With many poor and or rural communities that require assistance, both marine and land environmental concerns or historical explorations in the jungle, Latin America offers a wealth of ecotourism opportunities.
One of the most important factors when considering what sort of ecotourism trip you want to do and for what length of time is your personal safety.
If you are scared of creepy crawlies, snakes or lizards that you may come across in the national parks, are physically affected by temperatures, weather extremes or suffer from physical limitations, allergies or asthma, you should consider your options even more carefully.