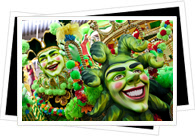 Latin America Festivals and fiestas are and have been an integral part of Spanish life, so when the Columbus and his comrades discovered the new world, certain Spanish traditions were naturally translated across with them and the early settlers.
Not just an excuse to get together and eat, drink, dance and be merry; Latin America festivals are an integral part of life in the region.
The February carnival is the biggest fiesta which is celebrated throughout Latin America and the Caribbean as well as much of Europe.