The Argentines like to party and celebrate their heritage.
Every week of the year there are Argentina events, festivals or fiestas of some sort being celebrated.
Many of the Argentina events and festivals celebrate folklore and there are also many celebrations of food and drink – cherries, olives, tea, apples, cheese, tomato, alfalfa, honey, empanadas (typical Argentine pasties) and yerba mate, as well as fiestas for steam trains, trekking, the sea, fishing, cars, cement, water sports, guitars, cotton, shoes, agriculture, flowers, the tango and even Oktoberfest in the German settled area of Villa General Belgrano.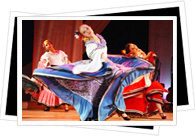 Cosquin National Folklore Festival
The Cosquin National Folklore Festival takes place in the second half of January each year. Although one of many folkloric festivals, it is considered to be one of the most important with lots of music, dancing and street theatre, accompanied by an excess of Argentine food and drink.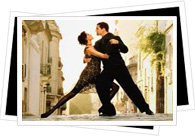 International Festival of the Tango
The middle of August sees the start of the International Festival of the Tango in Buenos Aires where people travel from around the world to participate in the dance and soak up the sexy atmosphere provided by the musical Latin rhythms.