Many of Peru's festivals and fiestas are Saints day holidays.
However, their history is actually an old tradition taking on the guise of a Catholic religious holiday so that the indigenous people could maintain their culture.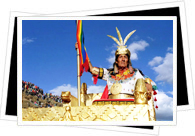 Inti Raymi Festival of the Sun
A traditional Peru festival is the Inti Raymi Festival of the Sun which dates back to the Inca who, on the winter solstice (June 24th), would pay homage to the sun. Centuries ago the priests would sacrifice a llama. The intestine would be examined and would give clues to the year ahead, as would the smoke of the fire.
Feasting and dancing would last over a week. Nowadays it is a ceremonial re-enactment that takes place in Cuzco. The ceremony concludes at midnight when the week long fiesta of feasting and drinking begins.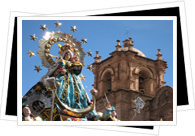 Virgin de la Candelaria
Another traditional celebration is that of the Virgin de la Candelaria which takes place at Puno on the shore of Lake Titicaca in February. On February 2nd the Virgin is paraded through the streets of the town and musicians and dancers provide entertainment.
The celebration continues over a period of 18 days in which the dance of the demons is an important feature along with bright costumes and terrifying devilish masks. At the end conclusion of the fiesta, the dancers make their way to the cemetery where homage is paid to the dead.