Latin rhythms are known across the globe as sexy sounds and dances with vibrant music.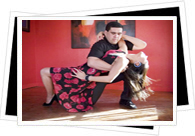 Who has not heard of the Tango, Argentina's passionate dance or Cuban Salsa dancing. Latin rhythms are popular throughout Latin America and are increasing in popularity worldwide as the number of dance halls and dance clubs open up with various Latin dance classes.
The Samba and Bossa Nova of Brazil, the Bachata and Merengue of the Dominican Republic, the Mambo, Fandango, Paso Doble, Rumba and Cha Cha Cha from Cuba and the relatively new sound of Reggaetón which spread across Latin America at a rapid rate, Latin rhythms are an infusion of the different cultures of Latin America (African, European and native) which have exploded to give us intensive and expressive sounds with equally intensive and expressive dances to accompany them.
Worldwide Popularity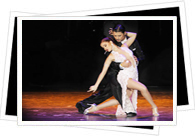 A few of the Latino artists who have had worldwide success and acclaim include: Maná (band - Mexico), Shakira (singer - Colombia), Gloria Estefan (singer - Cuba), Carlos Santana (guitarist - Mexico), Jon Secada (singer - Cuba), Rita Moreno (singer, dancer, actress - Puerto Rico), Celia Cruz (singer - Cuba), Tito Alberti (drummer - Argentina).
Within each Latin American country folk music and folk dance can be heard, reflecting the influence of the Amerindians. Woodwind and string instruments tend to be the preferred accompaniments, although drums will be the main accompanying sound in a few areas.
Latin rhythms are constantly developing, evolving and combining conflicting moves and sounds to create inspirational new beats and movements. The Bachata-Tango is one of the newest Latino dances combining Tango and Bachata steps to Bachata music.