Every town in the Dominican Republic has its own patron saint, so you can be sure that you can always find some kind of Dominican Republic festival happening somewhere on Hispaniola.
Fun is a given at any fiesta and many people dress in garish costumes, particularly when it is time for carnival.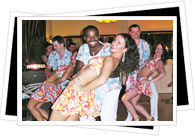 Meringue Festival
The end of July sees some of the world's best Meringue dancers converge at Santo Domingo to celebrate the national dance of the country in style. A second Meringue festival takes place in October in Puerta Plata.
Saint's Day
Our Lady of Altagracia (highest grace) is the patron saint of the Dominican Republic and on January 21st she is exalted across the country. Higuey is the location of her cathedral and each year pilgrims travel there to worship. The festival is one of the biggest in the country with prayer, singing of hymns and dancing filling the day.