As a Catholic country the majority of Costa Rica festivals are related to religion or a saint.
Costa Rican food, fireworks and the eventual hangover all play an essential part in the Costa Rica festivals.
Feast of Saint Joseph
San Jose Day, or the Feast of Saint Joseph is a countrywide street party as Saint Joseph is the patron saint of the country's capital city. Mass in the morning is followed by bullfights, food and drink and many will visit the Poás volcano for the day.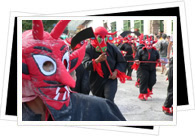 Fiesta de los Diablitos
From 31st December until 2nd January, the Fiesta de los Diablitos (little devils festival) is celebrated, re-enacting to music a fight between the Indians and the Spanish.
Ox Cart Drivers Day
Another interesting festival relates to the brightly coloured ox cart which is now a firm part of the Tico culture. In March ox cart drivers day is celebrated and in November is the oxcart parade.