Being an atheist country is one of the reasons that there are less Cuba festivals than you many expect in comparison with the number of fiestas seen in neighbouring Latin American countries.
That aside, some people will say that for many Cubans every day is holiday due to their upbeat character and their love of Latin rhythms, both music and dance.
Christmas day was banned by Fidel Castro, leader of the Cuban government in 1969 but reinstated in 1997 to honour the visit of the then Pope, John Paul II. Children get gifts and families enjoy a large meal together.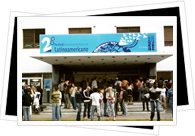 New Latin American International Film Festival
The New Latin American International Film Festival in Havana, or the Havana Film Festival as it is more commonly known, takes place for ten days in December and the festival often attracts a lot of attention from big Hollywood names.