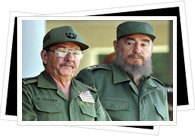 Cuba has been an independent country for little over a century.
In its short history, the Cuba government has seen dictatorship and the country as a police state.
The current President of the country is Raúl Castro, younger brother of the previous dictator, Fidel Castro who ran the country from 1976, passing over command to his brother due to illness.
The President in Cuba is the Head of Government, Chief of State, First Secretary of the Party and Commander in Chief of the Cuban armed forces. He is also President of the Council of Ministers and the Council of State.
Cuba
Government Type
Communist State
Administration Divisions
14 provinces and 1 special municipality
Voting Rights
From age 16, excludes those convicted of criminal offences
Chief of State
Raúl Castro Ruz has been President and Head of Government since 24 February 2008
Political Parties
Cuban Communist Party (PCC)
Cabinet
President of Council of State (President) proposes Council of Ministers and appointed by National Assembly
Congress
National Assembly (614 seats - number based on population) elected for 5 year term