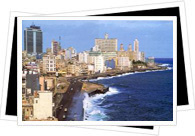 Havana and its Fortifications,
Cuba
A century after it was founded, Havana city was one of the main centres for building ships in the Caribbean, built in a baroque and neoclassic style.
The fortresses of Havana city include Castillo del Morro, La Cabaña, San Salvador de la Punta and the Castillo de la Real Fuerza.
Old Havana, also known as Habana Vieja as its Spanish name, is the heart of Havana city and was built around a natural harbour.
The first of the fortifications was built after a French pirate burned the city down after he was unable to find any treasure there.
Nowadays, Havana is treasured for its fortresses and is a UNESCO world heritage site.