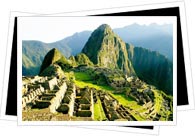 Machu Picchu,
Peru
The impressive city of Machu Picchu is listed both as a UNESCO world heritage site and as one of the new seven wonders of the world.
Machu Picchu city is an incredible feat of Incan architecture situated 2430 metres above sea level in the Andes mountains, overlooking the Urumba valley.
As the Spanish invaders did not find the site of the Machu Picchu city, despite its location just 80km from Cusco, it has remained pretty well in tact since its abandonment 500 years ago.
Locals were aware of the ruined city, but it did not become common knowledge to scholars until American, Hiram Bingham, 'rediscovered' the site in 1911.
The name Machu Picchu translates to 'old mountain' in Quechua.