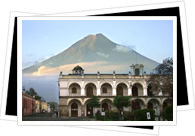 Antigua,
Guatemala
Originally Antigua in Guatemala was called Santiago de los Caballeros de Guatemala or Santiago de Guatemala.
The city of Antigua sits next to three volcanoes, including the ever-smoking 'Fuego'.
Despite much of the city of Antigua in Guatemala being destroyed by an earthquake in 1773, both reconstructions and original Baroque Colonial architecture line the cobbled streets.
Antigua also has a large number of ecclesiastical momuments including monasteries, cathedrals and convents.
The city of Antigua is listed as a UNESCO world heritage site.