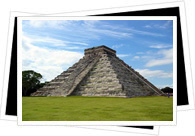 Chichen Itza,
Mexico
Listed as one of the new seven wonders of the world, and on the UNESCO world heritage list, Chichen Itza has centuries of history.
The site of Chichen Itza, Mexico is deemed to have been founded in the year 514AD around two large cenotes (wells).
The Mayan site covers 10 square kilometres and has two distinct sets of ruins. The area of Chichen Itza was settled by farmers in the 4th century and the first temples were constructed in the 7th century, dedicated to the rain god.
The city was abandoned for a while and re-inhabited by the Toltecs who built the city further. Abandonment of Chichen Itza started from the year 1194.
In the March equinox the sun's shadow against the Kukulkán pyramid at the site appears to be a diamond backed snake slithering down the steps to join a stone serpent's head at the bottom.