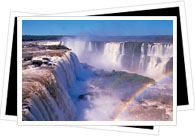 Iguazú National Park,
Argentina
The Iguazú National Park is subtropical jungle which surrounds the incredible Iguazú Falls, Argentina's most beautiful and one of the lengthiest waterfalls in the world at 2.7km.
Due to the U shape of the Iguazú Falls, you can experience 270 degree spectacular views. The Iguazú National Park covers an immense 550 square kilometres and is home to several endangered species of animal.
Iguazú is listed with UNESCO as a world heritage site.