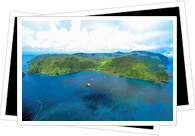 Cocos Island National Park,
Costa Rica
Within the tropical eastern Pacific, the only island with a tropical rainforest belongs to Costa Rica.
Cocos Island lies 530km offshore and is designated as a national park.
There is volcanic rock aged at 2 million years old on Cocos Island. Tourism is limited as there is no accommodation on the island and camping is not allowed. The island is uninhabited.
Cocos Island tourism features on the breathtaking marine life of the national park which is rated one of the top ten world diving sites for its coral reef, over 600 fish species and for viewing sharks.
Cocos Island is included in UNESCO's world heritage site list.