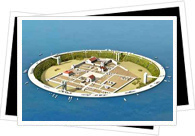 "Underwater City",
Caribbean Sea
In 2001 an ancient city was discovered underwater off the coast of Cuba.
The site is 20 square kilometres and the pyramids, buildings and roads there are estimated to be 6000 years old. Little else is known about the underwater city as it has yet to be explored properly.
In 2009, another underwater city was found in the Caribbean Sea but its location has not been made public.
Scientists are dating the city at depths of up to 70 feet, as probably being 4500 to 8000 years old and have described the structural style of the underwater city as that of early Mayan architecture.