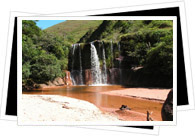 El Fuerte de Samaipata,
Bolivia
In the foothills of the Bolivian Andes, lies the picturesque town of Samaipata, the location of El Fuerte de Samai pata - the largest carved stone in the world.
El Fuerte de Samaipata or El Fuerte as it is more commonly known is a one of a kind sculptured rock believed to have been a religious site built by the Chanes, a pre-Inca civilization related to the large Arawak tribe.
At an altitude of 1949 metres, El Fuerte de Samaipata is assumed to be of religious importance, a Temple of the Sun with jaguars, snakes, cats and other shapes to be seen. At its highest point twelve seats are carved deeply in a circle.
The Inca used the site of Samaipata at a later date and the ruins of their city remain as do remnants of Arab-Spanish style buildings.
La Chinkana, a deep hole is at the site and has yet to be explored properly. Some researchers believe that hidden golden treasures could be found at the bottom.
The site of El Fuerte de Samaipata is included on the UNESCO world heritage list.