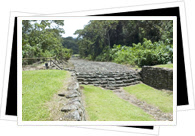 Guayabo,
Costa Rica
To date there is just one main site in Costa Rica, Guayabo, which provides an insight to the inhabitants of the country in days past.
Guayabo is located 19km from Cartago and the area was inhabited from 1500BC until 1400AD.
The houses of the Amerindians who lived at Guayabo were made of wood so they no longer remain, but their stone foundations do.
The site at Guayabo (Costa Rica) has covered and open aqueducts, paved roads with drainage, tombs, water tanks and carved petroglyphs with yet to be deciphered text.