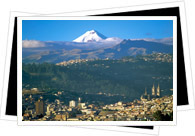 Quito,
Ecuador
Ecuador's capital city, Quito, was established by the Spanish in the 16th century on the ashes and ruins of the Inca city.
The historic centre of Quito is one of the best preserved and largest than can be found in South America.
In the 1990's much of the centre was restored and traffic management put in place. At night time, the floodlighting of the buildings is particularly impressive.
Quito (Ecuador) is the second highest capital city in the world.
The UNESCO world heritage site list also incorporates Quito in its listings.