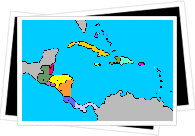 Both a number of cultural and natural world heritage sites can be found in Central America.
On the edge of continental plates, Central America is geologically active. This leads to fertile soils and has enabled the area to be one of the most bio-diverse areas in the world, containing 7% of the world's biodiversity.
The Maya civilization lived in the area hundreds of years ago and their cities and pyramids are the modern world's heritage from them.
Some of Central America's world heritage sites include: