Grains, fruit and vegetables feature typically in the cuisine of Costa Rica, very lightly spiced.
The national dish of the country is the casado, a plate of rice and beans with meat and salad – the meat and salad being subject to what is available in that season.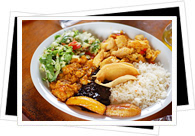 Another main dish found in Costa Rican cuisine is the gallo pinto, called burra in the south of the country, which is a combination or rice and black beans.
The Tico's often eat fruit salad in which banana usually features. A dessert which is eaten particularly at Easter time, is miel de chiverre (chiverre pumpkin honey) whereby pumpkin is cooked with a sugar cane syrup until it is all caramelized.
Coffee is drunk by most of the population as well as being a main export. A typical drink is the granizado, a slushy drink with syrup – the Costa Rican version of the slush puppie. Guaro is the typical liquor, made from sugar cane and drunk as a shot or mixed to make a long drink.