This page provides a one stop shop for useful Costa Rica facts and information.
Click here for further information about Costa Rica.
Click here for further information about Central America.
Suggestions of sites to visit in Costa Rica can be found in the Where to Visit section as well as Culture and Art.
Costa Rica Fact File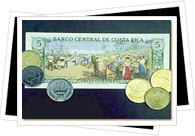 Full Name: Republic of Costa Rica
Capital City: San Jose
Country Area: 51,100 sq km
Land Mass Area: 51,060 sq km
Population: 4,516,220 (2010 estimate)
Life Expectancy: 77.54
Ethnicity: 94% white and mestizo, 3% black, 1% Amerindian, 1% Chinese, 1% other
Religion: 76% Roman Catholic, 14% Evangelical, 5% other, 3% no religion, 1% Jehovah's Witness, 1% other Protestant
Official Languages: Spanish
Internet Domain: .cr
International Dialling Code: +506
Monetary Unit: 1 colon = 100 centimos
Government: Democratic Republic
Independence from Spain: 15 September 1821
Random Fact
It is not common to see street signs in Costa Rica as addresses refer to buildings and landmarks.
To confuse the situation further for those who are visiting, some addresses refer to landmarks that may no longer exist. A typical address could be 200m (2 blocks) east of the school.