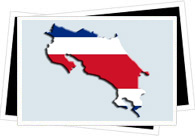 Costa Rica is one of the few countries in Latin America which has had a democratic government throughout the majority of its history as an independent nation.
The exceptions were a 12 year dictatorship by General Tomás Guardia from 1870 and a 2 year dictatorship by Federico Tinoco Granados from 1917.
Following the armed uprising of 1948, the following year Costa Rica abolished its military and the country's peace efforts have been recognized through the efforts of Jose María Figueres Ferrer (Don Pepe) who assisted in the abolishment and Oscar Arias Sanchez who was elected as the country's President in 1986 and won the Nobel Peace Prize the following year.
Notable governmental leaders in Costa Rica include Juan Mora Fernandez, the country's first Head of State in 1824, who encouraged coffee cultivation and increased public education. Despite ruling as a dictator, Tomás Guardia introduced free compulsory primary education. Dr. Rafael Angel Calderón Guardia was elected in 1940 and introduced a minimum wage. Unfortunately he did not want to release his power and the 1948 civil war broke out as a result.
Don Pepe allowed women the vote and black people full citizenship and Arias was awarded the Nobel Peace Prize for promoting peace in Central America and getting 5 Presidents to sign a peace plan.
Costa Rica
Government Type
Democratic Republic
Administration Divisions
7 provinces
Voting Rights
Compulsory from age 18
Chief of State
Laura Chinchilla Miranda has been President and Head of Government since 8 May 2010
Political Parties
National Liberation Party (PLN)
Democratic Force Party (FDP)
Accessibility Without Exclusion (PASE)
Citizen Action Party (PAC)
Costa Rican Renovation Party (PRC)
Frente Amplio
Homeland First (PP)
Libertarian Movement Party (PML)
National Democratic Alliance (ADN)
National Integration Party (PIN)
National Rescue Party (PRN)
National Union Party (PUN)
Patriotic Alliance
Patriotic Union (PU)
Popular Vanguard
Social Christian Unity Party (PUSC)
Union for Change Party (UPC)
Cabinet
President selects
Congress
Legislative Assembly (57 seats) elected by popular vote for 4 year term