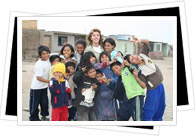 There are many opportunities do do voluntary work in Latin America.
Many options are focused on ecotourism and others are focused on helping out in the community.
There are many companies that can organize a trip for you, or you could find a local project through one of the many Latin American Spanish schools once you are confident with your spoken Spanish.
A World Away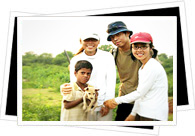 Unfortunately it is clear to see the financial and social divide in many Latin American countries. The few percent who are rich hold all the country's money in their hands, while the rest of the country is without.
Many poor communities have limited resources and little or no education. Helping with construction, education, welfare and working to conserve nature are all different options which give back to the community.
Most volunteer work in Latin America requires you to learn Spanish to a minimum level of conversational Spanish so that you can follow instructions safely and communicate with fellow volunteers, whether they are the local community or other international volunteers.
It is a great opportunity to take some well earned time out of your life to reflect on what is important to you and your future. Skills learnt whilst volunteering overseas are always transferable to other future opportunities, whether they be other volunteer positions or in future employment.