Cuisine in Guatemala depends on locally available ingredients.
Since the times of the Maya, corn and beans have featured heavily within the diet of the Guatemalans and continues to do so along with cheese, rice, eggs and seasonal fruits and vegetables.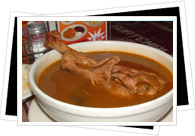 Along the coast lightly spiced fish is popular. In other regions, chicken, turkey and beef are commonly eaten, again spiced up or in a caldo or sopa (stew or soup). Kakik is a traditional turkey soup since Mayan times, flavoured with chilli and coriander.
Guatemalan cuisine is not famed for its desserts, however, coconut or caramel flavoured flan, a custard dessert is popular throughout the country.
Licuados, fresh fruit smoothies are available everywhere and can be made with milk or water. The national beer is Gallo which can be seen across the country.