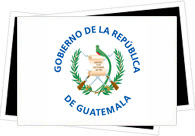 The President of the Republic of Guatemala must be a native born citizen who is at least 40 years old.
They are elected for a single 4 year term by direct vote having the law changed from the previous term of 6 years.
Guatemala's governments have seen dictators, authoritarian rulers, military regimes and a 36 year long civil war which was the longest civil in Latin American history and led to the death of 200,000 people, mostly of Mayan origin.
In all, the various governments of Guatemala did their utmost to prevent constitutional rights, enforce censorship and generally restrict the freedom of civilians.
In 1996, Álvaro Enrique Arzú Yrigoyen became President of Guatemala. He managed to end the civil war and over the period of a year had a number of peace treaties signed, leading to eventual peace in the country.
Guatemala
Government Type
Constitutional Democratic Republic
Administration Divisions
22 departments
Voting Rights
From age 18. Military cannot vote
Chief of State
Álvaro Colom Caballeros has been President and Head of Government since 14 January 2008
Political Parties
National Unity for Hope (UNE)
Center of Social Action (CASA)
Accessibility Without Exclusion (PASE)
Democracy Front (FRENTE)
Democratic Union (UD)
Encounter for Guatemala (EG)
Grand National Alliance (GANA)
Guatemalan National Revolutionary Unity (URNG)
Guatemalan Republican Front (FRG)
Independent Bloc Guatemala (BG)
Independent Democratic Freedom Renewed (LIDER)
National Advancement Party (PAN)
Nationalist Change Union (UCN)
Patriot Party (PP)
Unionista Party (PU)
Cabinet
President appoints Council of Ministers
Congress
Unicameral Congress (158 seats) elected by popular vote for 4 year term