The flavour of the Dominican Republic cuisine is a combination of Taíno, Spanish and African with a hint of other influences.
Lunch for almost all the natives comprises la bandera dominicana (the Dominican flag), a plate of beans, rice, meat and salad, but which can be made up in differing variations.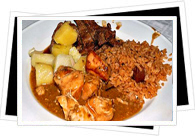 Typical Dominican Republic dishes are meat or fish with fresh vegetables from the garden, which could include native plants of plantain (similar to unripe banana), yucca or taro, depending upon what is currently in season. Don't be surprised too when you are served boiled bananas with your meal as it's a popular side dish.
Habichuelas con dulce is a typical dessert food eaten at Easter, shared with family and friends. It is a mix of beans and sweet potato cooked in coconut, with cloves, cinnamon and raisins.
Due to the natural availability of differing tropical fruits, juice is a popular drink and found freshly squeezed everywhere. Look out for one mixture called morir soñando – die dreaming. Mabi is a local drink made from the bark of the Mabi tree and fermented with sugar. It has a taste similar to cider and varies in alcohol content depending on where you get it from.