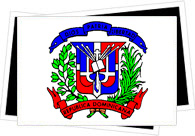 In 1844, the first Dominican Republic constitution came into effect following independence from neighbouring Haiti.
This was changed in the first year by the then authoritarian government.
The Dominican Republic has had a chequered history of authoritarian and liberal constitutions since the very beginning.
Many changes were seen in the country from the 1960's, following the assassination of dictator, Trujillo, who had run the country since 1930. Over a period of 2 decades the per capital income increased 4-fold, the percentage of people living in urban areas doubled and literacy levels significantly increased.
The economy of the Dominican Republic depends upon the United Sates who take about 60% of the country's exports. GDP improved at the beginning of the 21st century, but the world recession has reduced this again.

Government Type
Democratic Republic
Administration Divisions
31 provinces and 1 district
Voting Rights
Compulsory from age 18 and married persons. National police and armed forces cannot vote.
Chief of State
Leonel Fernandez Reyna has been President and Head of Government since 16 August 2004
Political Parties
Dominican Liberation Party (PLD)
Dominican Revolutionary Party (PRD
National Progressive Front
Social Christinan Reformist Party (PRSC)
Cabinet
President nominates
Congress
Senate (32 seats) elected by popular vote for 4 year term
House of Representatives (178 seats) elected by popular vote for 4 year term