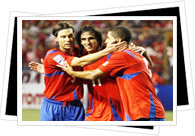 Although they enjoy a variety of sports, Costa Rica is ultimately a big fan of football.
Costa Rica proudly featured in the FIFA world cup in 1990, 2002 and 2006. Although their La Sele national team are big, so too are local tournaments and matches.
The U20 football team lost in the semi final match of the 2009 world cup, held in Egypt and finished in overall fourth position.
Bullfighting Tico Style
Another of the popular sports Costa Rica supports is bullfighting or Toros a la Tica (bullfighting Tico style) which does not result in the bull dying like most bullfights do. No blood is drawn, not the bulls anyway.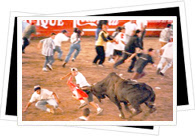 Bullfights are particularly popular during town festivals, especially when it is the day of the town's patron saint. The sport dates back to the 1800's when a 'running of the bulls' event took place with bulls let loose to run through the town alongside the townspeople. Similarly to the running of the bulls festival in Pamplona, Spain, both bulls and runners would all finish up in the town's bullring.
Nowadays the sport is different. Bullfighters play with the bulls first, teasing them as they jump in and out of the ring and others ride horseback. The matadors then take their turn using their bright capes to tire the bulls out. Finally cowboys will rope the bull and lead it from the ring, concluding the show.
Up to thirty people can be in the ring at any one time and the event is often more of a showpiece rather than the competition style of bullfighting in Spain or Mexico.
Although considered as sport, Costa Ricans acknowledge that their bullfighting is usually a feature within a Costa Rican festival which is ultimately an excuse to eat typical Costa Rican cuisine, drink and be merry, having lots of fun.