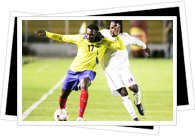 The national sport of Ecuador is football.
Although when playing the sport, Ecuador tends to fare much better in home matches as the other teams struggle to play at such high altitudes.
Ecuador qualified for the 2006 FIFA world cup, but despite being one of the teams in their group to go through, lost to England in the first round.
Interestingly, Ecuador's best football win was in 1975, scoring 6-0 against Peru. Their worst loss was a match against Argentina in 1942 where they lost 12-0.
On Home Ground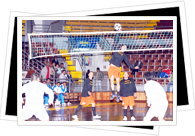 Another of the popular sports in Ecuador is basketball which has been gaining momentum with universities and women's teams are becoming prominent too. Hockey has also been increasing in popularity since 1990.
Ecuavoli is the local version of volleyball. Both the ball and the rules are different to the usual sport. Ecuador uses a heavier ball and has teams of just 3 players. The rules are more flexible regarding the hands.
Other sports Ecuador enjoys are horseriding, tennis, bullfighting and paddle ball. Both bullfighting and paddle have their own Ecuadorian rules. No bulls blood is spilled unlike in traditional Spanish bullfights and paddle ball has various versions.