Guatemala shopping is mostly 6 days a week, although markets and shopping centres do trade on a Sunday.
Guatemala is one of the best countries in Latin America for purchasing handicrafts due to the sheer range available.
In addition to traditonal textiles, clothes and hand crafted products, Guatemalan rum and coffee are both worth checking out too.
Act Up Accordingly
For the most authentic Guatemala shopping experience, the town markets are the place to visit. When you see something you like, don't take the first price given. Offer a lower price and expect to negotiate somewhere in between the two prices. Haggling in the markets is like participating in a theatre piece with lots of exaggerated facial expressions and hand gestures expected until you have both made a good 3 to 5 different price offers and come to an agreed price.
Guatemala City
Guatemala City shopping offers everything. Zone 10 or zona viva is home to many shopping centres and is one of the best parts of the city for both its shopping and the Guatemalan nightlife. Look out for the Mercado de Artesanías (artisan market) for pottery, leather, jewellery, wood carvings and woollen goods and the Mercado Central (central market) too. Zone 1 is also a good area for shopping. The city tends to have typical souvenirs and gifts of a higher quality than in other towns.
Chichicastenango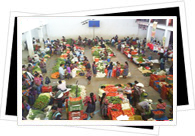 The Chichicastenango (Chichi) market held on a Thursday and Sunday is a colourful affair where you can pick up almost anything from household goods to antiques to souvenirs. Vendors come from across the country to fill the town square and neighbouring streets with their offerings. Unlike in most markets, you will find vendors with similar goods are sited around the same area.
Lago Atitlán
At Lago Atitlán the Sololá market on a Tuesday and Friday is an authentic one with few products aimed exclusively at tourists. Locals usually dress in traditional wear so it is a great chance to see some authentic Mexico. At nearby Panajachel there are more souvenir type goods available all along the main strip in town.
Antigua
Antigua is one of the most popular spots to visit in Guatemala and the shopping offers everything you would expect and more.
Nim P'ot
Nim P'ot has an impressive indoor cooperative market which includes a vast selection of Mayan textiles as well as locally crafted products and ceramics. Quality varies but the predetermined prices are very reasonable.
Quetzaltenango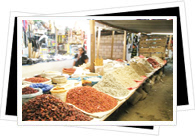 Quetzaltenango shopping has an interesting mix of options. As well as its markets, such as the Mercado Minerva, you can find many blown glass products in town. The first Sunday of each month is a market event for music and crafts where vendors come to sell their handicrafts and participate in the folkloric dancing.
Other Villages
If you are looking for ceramics at the best price, the villages of Rabinal, San Luis Jilotepeque and Villa de Chinautla are the best places to head for. If silverware is your thing, then the best prices to be found are in Cobán.