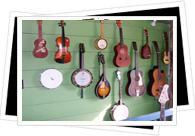 One of the most typical Chilean souvenirs you can find is a Charango when you are out Chile shopping at the markets.
Traditionally made from Armadillo hide, these 10 stringed guitar like instruments are typical of folkloric Andean music.
Be aware that some handicrafts are commonly imported in from neighbouring countries, so if you are looking for a souvenir unique to Chile, ensure that you check the origin of your purchases.
Typical products you can find in Chile shopping are; Charangos, wood and leather handicrafts, leather bags and shoes, jewellery, wooden Mauis, papaya confitada (candied papaya), woollen clothing, antiques, copper souvenirs, wine and archaelogical reproductions of ethnic design.
What's Where
Santiago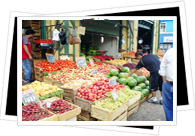 In Santiago, the Cerro Santa Lucía market offers many typical handicrafts and souvenirs on the Alameda main road. Look out for a wooden statue called El Indio Pícaro. The statue is a popular hand carved gift with a surprise when lifted.
The city's Feria de Domingo between the Plaza de Armas and Alameda is a great place for antique hunting on a sunday and Persa Bio Bio, the largest flea market in the country, has all sorts of delights to be found amongst its stalls.
The Plaza de Armas sees local artisans selling their works in the main square most afternoons. The woollen clothes and wooden toys are especially popular. Other Santiago de Chile shopping areas include the Pueblito de los Domínicos and Aldea de Vitacura.
Alto las Condes is a modern shopping centre in Santiago containing a variety of highstreet and more upmarket shops as well as a large food court area. It's open every day of the week and has a multiplex cinema too. Most of Santiago's districts each have a shopping centre.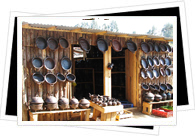 Pomaire
Pomaire, located 60km west of Santiago is known as the pottery town where earthenware of every type can be found, except on Monday when everything is closed. It is also known for its empanadas which weigh in at half a kilo each.
Chiloé
The market at Chiloé is a great place to stock up on warm, cosy clothes when visiting the UNESCO world heritage listed wooden churches on the cold, damp island.
Punta Arenas
Punta Arenas in the south offers a great selection of penguin souvenirs and also has a duty free shopping centre at the north end of the town called Zona Franca, although it has standard shopping centre shops rather than any souvenirs.
Lapislázuli is a semi precious blue stone which can only be found in the Andes mountains and in Afghanistan. There are jewellery shops throughout the country where you can purchase both lapislázuli jewellery and ornaments. They are not cheap souvenirs but the stone is not commonly sold outside of Chile.
Finally, don't forget a bottle of two of Chilean wine and some Pisco.