Most shopping in Bolivia takes place in the many markets.
Street vendors are abundant in Bolivia selling their wares from Armadillos, to native herbs or warm woollen clothes.
The most renowned markets are the witches markets which have plenty of produce you could imagine a witch throwing in her cauldron.
Haggling is a way of life negotiating prices with street vendors and part of the Bolivian culture. Skilled hagglers looking for a bargain should be able to reduce the asking price to half or 60% of the first given price.
Traditional Witches Markets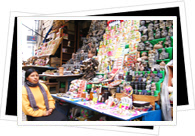 El Mercado de las Brujas in La Paz, or witches market as it translates to, is the most famous of the witches markets. Calle Linares in the old town area is the heart of the market which sprawls across into neighbouring streets.
Traditionally, Bolivians believed in animism and would worship animals and mother earth (Pachamama). The continued strong influence of traditional religion can be clearly seen at the witches market and many of the stall holders are happy to explain why frogs and llama fetus' are good luck, tell your fortune with coca leaves, or cast a spell for you.
Cochabamba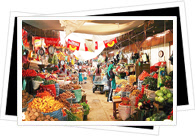 The Cancha in Cochabamba is the largest open air market in Bolivia and probably Latin America. Although it runs every day of the week, the busiest days are Wednesday and Saturday. A variety of typical Bolivian souvenirs can be found by those daring to hunt out the best handicrafts.
Potosí
Shopping in Potosí is best done at the witches market which has a notable number of fabrics and edible products for sale. Look out for chocolate as the dark bitter one is one of Bolivia's best.
Tarabuco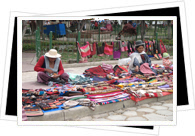 Market day in Tarabuco is Sunday. The market sells an abundance of woollen products, perfect for stocking up on before continuing to journey further into icy temperatures.
La Paz
La Paz shopping, away from the witches market offers a variety of unique products which vary in quality, although the given price will likely as not reflect the quality. Calle Sagárnaga is a great place to search for artesano products (handicrafts). Typical souvenirs to be found in La Paz are rain sticks, wood carvings, llama fetuses, fleeces, ponchos, woollen clothing, leather bags and silver jewellery and trinkets. The main square area is the tourist shopping area with higher prices.
The Capitals
Both Santa Cruz and Sucre have witches markets where you can find a variety of interesting products when shopping there.