In the Dominican Republic, shopping varies from the commonly found 'I ♥ DR' t-shirts and beach towels to handicrafts, jewellery and art work.
Unfortunately, many people who visit the Caribbean island stay in all inclusive resorts and limit themselves to the shopping available in their resort and so miss out on a wealth of opportunities to haggle prices down on their souvenirs.
Don't Think Pink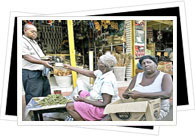 Bargaining or haggling is commonplace away from shops with street vendors inflating prices considerably if they see that you are a recent arrival on the island, with your freshly sunburned skin giving the game away (double sun cream benefit: no burning and cheaper Dominican Republic shopping!), so ensure you barter the price down accordingly.
With such a fluctuation of prices to be found, do your research before you head out shopping to have an idea of what you want to pay, so you can negotiate the cost down.
Candles are popular items to buy in the Dominican Republic, often scented or decorative using locally grown plants such as coconut and vanilla. They tend to be cheaper than those you find at home and can be found in most shops that sell gifts and souvenirs.
Souvenirs & Handicrafts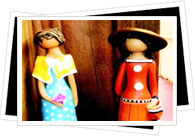 A typical souvenir of the country is the faceless doll, dressed in traditional clothes, made of ceramic or clay. The dolls are depicted in typical country life poses and are wear traditional dress. They were created by the Dominican artist, Liliana Mera Limé, in 1981 and are faceless to reflect that there is no one typical face of the Dominican Republic people due to the mix of races and cultures present in the country.
All sorts of other locally made handicrafts are available when shopping in the Dominican Republic, along with less usual souvenirs such as Dominican and Haitian paintings furniture, particularly rocking chairs which come ready made or flatpack to fit in your suitcase, terracotta pots and many hand carved Mahogany goods.
Precious Stones
Larimar is a stone unique to the Dominican Republic. It can be purchased in natural form as a souvenir or you can take your pick of the beautiful jewellery pieces it features in. In general, the deeper the blue colour, the more expensive it will be. Most Larimar is found in silver jewellery, but some of the higher grades are set in gold.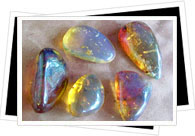 Amber is another stone that can be commonly found in the country's jewellery with colours ranging from the typical golden yellow to red and even a green black colour. The Amber from the Dominican Republic is considered to be the best in the world and is the country's national stone. Stones which include fossils of plants or insects are considerably more expensive and prized.
As the country that produces the most cigars in the world, cigars are popular gifts too, along with many choices of rum and coffee.