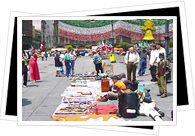 Mexico shopping is available seven days a week from morning through to the evening.
Street markets in Mexico are morning affairs closing after lunch and Sunday shopping is in shopping centres and tourist area shops.
With street vendors you should try to bargain down costs, but in shops the prices are fixed.
Before any Mexican festival is a great time for shopping as you will find lots of unique gifts and trinkets relevant to the celebration throughout the shops and street markets.
Vast Variety
Typical products you can find when shopping in Mexico are textiles, pottery, silver and tequila as well as a wealth of handicrafts.
If you are on a tourist route, expect to find the same products in all the souvenir shops. If you are looking for something different or special, the local market is the best stop and there is at least one market in every town with bargains to be found. Some of the best markets are considered to be Chiapas, Oaxaca and Puebla due to their Indian populations.
In main cities Mexico's shopping tends to be fairly Americanized with shops, galleries, boutiques and shopping centres all available with the markets offering you further shopping options.
Mexico City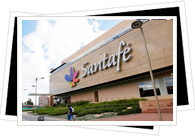 Mexico City is one of the world's major metropolis' and as such has the shopping to match including one of the largest shopping centres in Latin America, the Santa Fe. For designer shopping, the Mazarik Avenue in Polanco is where you will find exclusive boutiques.
If you are looking for something with a more casual feel, check out the colonial Coyoacan neighbourhood and stroll the cobblestoned streets as you admire the different shops of clothes and handicrafts. The Mercado de Artesanías is a great place for haggling over the price of your handicrafts. Most Mexico city shopping is in the Polanco neighbourhood.
Taxo
As the silver capital of Mexico, Taxo is a great stop for silver goods with around 200 dedicated shops, although there is little else there in the way of shopping Check for the .925 stamp otherwise expect silver plating when you see cheaper prices.
Puerto Vallarta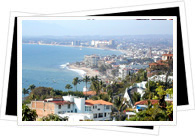 The Puerto Vallarta shopping experience is different to other towns and cities. Along with tourist produce, cheap alcohol and tobacco, the indigenous Huichol Indians run a market offering their produce. The mercado municipal by the river offers a great selection of masks, clothing and textiles, carvings, pottery and more. The native Mexican artist and sculptor, Sergio Bustamante, displays many of his works in galleries in the town.