When choosing to visit Bolivia, nightlife is not usually the reason for making that choice.
It is notable that La Paz is the administrative capital of the country as the Bolivian nightlife there is somewhat quieter and more reserved than in other towns and cities.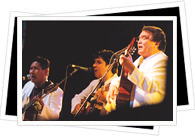 In Sucre, Bolivia's other capital city, the student population ensure that the Bolivia nightlife is cranked up a notch or two.
When looking for a local place to enjoy the nightlife, Bolivia offers a vast selection of peñas which are bars, restaurants and dance clubs combined. Most often they offer entertainment of authentic Andean music and a show of folk dancing with the dancers wearing traditional costume.
The Sizzling Cities
La Paz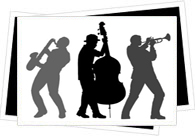 The La Paz nightlife starts warming up when the sun sets and the thermometers start heading quickly downwards. The city offers a variety of peñas as well as bars and restaurants. The Solocachi district is known for it jazz music with live performances at the weekend. Most bars are open from Wednesday to Saturday with Friday night being the bigger weekend night out.
Sucre
Bolivia's nightlife in the city of Sucre focusses around the bars in the Plaza 25 de Mayo area. The city boasts both international and local restaurants offering a variety of Latin food options before enjoying a few drinks and dancing the night away.
Santa Cruz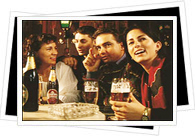 Santa Cruz is the Bolivia nightlife that you read about in magazine articles about the country. Between 8 and 9pm you will see people dressed to impress, walking the streets as they head out for dinner. Bars then start filling up from 11pm and the partying goes on throughout the night.
The main neighbourhood for bars, clubs and restaurants is Equipetrol, particularly Avenida San Martín. Wherever your interest may take you for the night, you will find it all in this area.
The nightlife in Santa Cruz city centre tends to be more relaxed and appealing to a slightly older clientele than that of Equipetrol. Popular both in the day and at night time is the Avenida Monseñor Rivero, full of bars, café's and restaurants.
Cochabamba
Cochabamba is another university city which shows the Bolivia nightlife to be vibrant at the weekends. Trendy bars and café's can be found by the Avenida España, especially between the streets of Colombia and Ecuador. Nightlife can also be found around Avenida Uyuni and Avenida Ballivián.
Remember that the high altitude in Bolivia will affect your alcohol tolerancy, so you may get light headed far more quickly than you usually would.