Ecuador's capital city, Quito, is home to most of the Ecuador museums.
Most of the Ecuador museums can be found in the old town area, La Marín.
Although there are museums dotted around Ecuador, they are more prevalent in Guayaquíl than in other towns and cities (excluding Quito).
Ecuador's Museums
A selection of Ecuador museums follows. Unless stated otherwise, the museums are in Quito.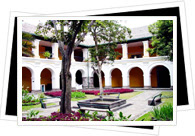 Museo de la Ciudad
A restored 16th century hospital provides the setting for the City Museum that follows the life of Ecuadorians in the area through the centuries. Exhibits are precolumbian to the present day of which some are detailed reconstructions and others are interactive.
Museo del Banco Central
Not a banking museum as the name suggests, but actually Ecuador's National Museum which was founded by the Central Bank. Its displays include art from precolumbian times to the present day, metal work, coins, archaeology dating back to 12,000BC, works of gold and shrunken heads.
Museo del Convento San Francisco
The San Franciscan order set up a school of art and sculpture here and created many of the works of art on display in Quito's churches. On display in the building are many works of religious art. The oldest part of the monastery dates back to 1535.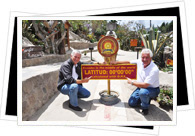 Museo de Sitio Inti Ñan, Mitad del Mundo
Close to Quito is the centre of the world and just up the road is Inti Ñan. The museum is interactive with many scientific tests to try out that only work because you are at the equator - why you weigh less there, how to balance an egg on a nail, how to shrink a head and how water drains clockwise one side of the equator and anticlockwise on the other.
Museo Fundación Guayasamin
A museum dedicated to the works of Ecuador's most famous artist with international success, Oswaldo Guayasamin. The museum also houses an archaeological hall with precolumbian artefacts and a colonial hall in addition to contemporary art.