Peru's museums can be found around the country.
The content of the Peru museums ranges from art or architecure through to weaponry and human remains.
A large number of Peru museums are dedicated to arts and crafts - ceramics, jewellery, gold, art, etc, reflecting the natural craftsmanship ability of the people throughout the ages.
From Gold to Ice
A selection of Peru museums is listed.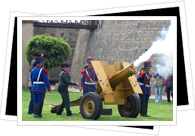 Museo Histórico Militar Real Felipe, Lima
A selection of military and historic relics related to events of the fortress. Pieces include a flag that was flown during the final Spanish stand and a cannon used in the War of Independence.
Museo de Oro del Perú y Armas del Mundo, Surco
Precolumbian gold, silver and textiles are displayed along with weaponry. The collection in the arms part of the museum is supposedly the largest such collection in the world.
Museo del Banco Central de Reserva, Lima
Along with displays of coins, notes and medals from colonial times to the present day, the museum includes Peruvian paintings dating from the 19th century and a selection of precolumbian archaeology.
Museo Taurino de la Plaza de Acho, Rímac
Next to Lima's bullring is a museum dedicated to taurine works of art, displaying clothing, weapons, equipment and photographs. There are also Goya engravings and scenes depicted by Picasso.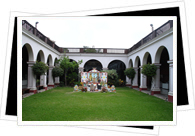 Museo Nacional de Antropología, Arqueología e Historia, Pueblo Libre
The museum follows the history of Peru up until the revolution. There are scale models of archaeological sites, obelisks and stelae from Chavin and a collection of Parcas textiles. There are a number of colonial paintings and artefacts too.
Museo Santuarios Andinos, Arequipa
Most people visit this museum to see Juanita, the ice princess. She was sacrificed to the gods 500 years ago and would have been chosen for her 'perfectness'. Juanita remains in her frozen state and can be viewed from May to December. There are further bodies and also displays of textiles, woodcarvings and gold.
Museo de Oro del Peru, Lima
A showcase of pre-Inca gold items - jewellery, ornaments, masks and knives from the Vicus, Frias, Nazca and Chimu cultures.