The majority of Chile's museums are insights into the country's past.
There is an excellent selection of Chile museums dedicated to the indigenous people in times gone by and how they used to live.
There are also 3 national Chile museums. The Natural National History, Natural History and the Museum of Fine Arts which are all worth a visit for their impressive content. All 3 are highly rated as quality museums within South America.
The Hot List
Some Chile museums that you should look out for include: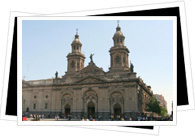 Catedral Metropolitana and Museo de Arte Sagrado, Santiago
The Museum of Sacred Art is located inside the Cathedral. The Cathedral is a national monument and the resting place of many of Chile's archbishops and luminaries. The body of Diego Portales, one of Chile's founding fathers is also there. The current Cathedral dates back to 1748. Previous Cathedrals on the same site were destroyed by fires and earthquakes.
Museo Arqueológico San Miguel de Azapa, near Arica
Within the walls of an 18th century olive oil refinery is the San Miguel Archaeological Museum containing artefacts of the Chinchorros and Tijuanacotas. The Chichorro mummies are the oldest in the world, dating back to between 5000BC and 6000BC. Geoglyphs and petroglyphs can be seen in the nearby hillsides dating back hundreds of years.
Museo Chileño de Arte PreColombino, Santiago
The neo classical styled former Royal Customs Palace contains the Chilean Museum of Precolumbian Art. The exhibitions are separated into cultural areas and in addition to carvings, textiles and pottery, etc, there is also a 5000 year old mummy.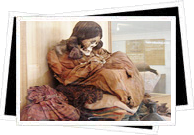 Museo del Padre de Paige, San Pedro de Atacama
Father Le Paige was a Jesuit priest and also an archaeologist who studied the prehistoric atacameñans over an evolutionary period of 11,000 years and started the collection the museum now holds. The museum has 1500 mummies, 4000 skulls and nearly half a million archaeological objects in its selection.
Museo Nacional De Bellas Artes, Santiago
The National Museum of Fine Arts is an impressive collection of national and international art work. The museum is situated in a replica of the Paris Petit Palais which is also home to the Contemporary Art Museum.
Museo Nacional de Historia Natural (MNHN), Quinta Normal
Founded in 1830, it is one of South America's oldest natural history museums. Originally focussing on the biology and geography of the country, it now has four areas of focus: anthropology, botany, paleontology and zoology.