There are a notable number of archaeological museums in Mexico, reflecting the incredible pre-columbian history of the country.
Many of the Mexico museums in the capital city are free to enter on Sundays.
Below is a selection of different Mexico museums which you may be interested in visiting. Unless specified, the Mexico museums are situated in Mexico City.
Mexican Heritage
Museo de la Ciudad de Mexico
In a building of Mexican baroque style is a museum reflecting the history and people of the city from its time as Aztec capital, through to the 20th century. The collections are split into four time periods: precolumbian, colonial, 19th and 20th century. There are archaeological pieces, interactive and temporary exhibitions.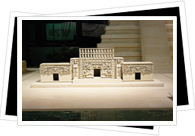 Museo de la Cultura Maya, Chetumal
Focusing on Mayan culture through the use of interactive exhibits, this museum also has models of Yucatan sites and casts of steleas.
Museo de Historia Natural
Considered one of the world's best museums with artefacts dating up to 3000 years old, the Natural History Museum is located within the Castle of Chapultepec. The museum specializes in Mexican art and culture and includes antrhopological studies of the country's indigenous groups.
Museo del Templo Mayor
Displaying thousands of archaeological pieces found at Tenochtitlan, the name main temple (templo mayor) refers to the main temple at Tenochtitlan, before the city's destruction. Tenochtitlan was the capital city of the Aztec empire which Mexico City now is built upon.
Museo de Xcaret, Xcaret, Riviera Maya
The museum contains models of 12 of the most important Mayan archaeological sites. The museum also has a recreated Mayan home by a stream which you can view from the water.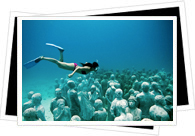 Museo Escultórico Subacuático, Cancún
Due to open 2011, this underwater sculpture gallery can be visited by snorkellers and divers alike. When completed there will be 4 exhibition areas.
Museo Nacional de Antropología
The Anthropology Museum has the world's largest collection of ancient Mexican pieces, which include the Aztec sun stone and a jade mask of the Bat God. Archaeological scenes are recreated in some of the rooms, so visitors can understand how pieces were found. The museum is substantial and not one you can visit quickly.
Museo Rufino Tamayo
Dedicated to the work of the Oaxan painter, Rufino Tamayo, there are also pieces on display by other renowned artists including Picasso, Joan Miró, Mark Rothko and Andy Warhol.