Ecuador sees most of its national parks and protected areas in its highlands, running down the centre of the country.
Its first Ecuador national park was the Galapagos Islands where Charles Darwin studied evolution. The park includes a marine reserve.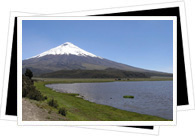 The first mainland national park was Cotopaxi, close to Quito, which is home to the world's largest active volcano.
Yasuni national park contains the most variety of species and is listed by UNESCO as a world heritage biosphere reserve.
Other national parks include Podocarpus and its 600 different bird species and the Puyango Petrified Forest with 100 million year old fossils and dinosaur bones.