Argentina is home to many national parks and some of the better known Argentine parks are listed as UNESCO world heritage sites.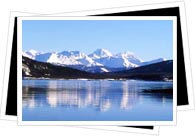 Iguazú National Park is home to the world famous falls and one of the most visited of Argentina's national parks.
Tierra del Fuego is the southernmost national park in the country and probably the world.
UNESCO listed world heritage site, Glaciers National Park - home to the guemal, hullín, pudú pudú and huanaco which are all on the verge of extinction, Nahuel Huapi National Park - the first national park in South America and the UNESCO listed Ischigualasto and Talampaya National Parks known for their impressive rock formations, petroglyphs, dinasaur bones and fossils.
Other Argentina national parks include Calilegua, Los Cardones, El Rey, El Palmar, Quebrada del Condorito and the Sierra de las Quijadas.