Cuba was originally located in the Pacific Ocean, but over millions of years the continent drift has brought it to the Caribbean.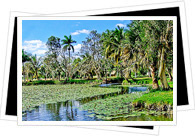 The Cuban wildlife has adapted and evolved to the new environment and now about 80 percent of its amphibians and reptiles, and more than half the plants and animals can only be found in Cuba.
The country's largest protected area is the Ciénaga de Zapata Biosphere Reserve, a national park and wetland whose marshes, woodlands and mangroves are the home to much Cuban wildlife including many bird species as well as the endangered Cuban Crocodile. With the skill of being able to 'leap' out of water and attack its prey the Cuban Crocodile has a refined ability to watch out for.
Viñales Valley and the Desembarco del Granma and Alejandro de Humboldt National Parks are UNESCO world heritage listed sites.