Chile has just one national park currently incorporated as a UNESCO listed world heritage site; Rapa Nui or Easter Island as it is often known.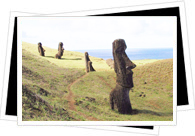 In addition to national parks, Chile also has an extensive number of national reserves and natural monuments, totalling nearly 100 different sites and 19% of the country.
The country's first national park was Vicente Pérez Rosales. The park was named after the Chilean politician and diplomat, Vicente Pérez Rosales.
The park was founded in 1929 and sited mostly in the Andes with the Todos los Santos lake, Negro river, Petrohue waterfalls and the Osorno and Tronador volcanoes within its boundaries.