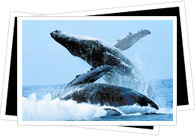 The Dominican Republic is famed for its tropical beaches, but the country is also becoming increasingly known for its natural world.
Over 65 protected areas of national parks, scientific reserves, etc provide sanctuary to a lush green landscape and over 125 endangered species.
Jaragua National Park has Taíno paintings dating back 4500 years and is home to the world's smallest reptile, the Jaragua Sphaero (dwarf gecko), a mere 16mm long.
The Silver Bank is part of the Sanctuary for Marine Mammals where north Atlantic Humpback whales converge to mate and calve, the largest congregation of humpbacks in the world.
Other national parks are Armando Bermúdez with the Pico Duarte mountain - the largest mountain in the Caribbean, Isla Cabritos with its temperatures of up to 50 degrees Celsius and the Madre de las Aguas conservation area which supplies drinking water to most of the country.